Q: What's Natural & Scientific AND Powerful & Gentle

A : Triumph & Disaster
LOGIC + RITUAL FOR A LIFE RUN WILD.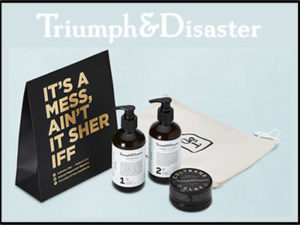 We pride ourselves on delivering products built from the pillars of ritual, character and fate. Each product is infused with bespoke Triumph & Disaster aromas, natural blends of complex notes that evoke old fashioned values from simpler times. We don't test on animals other than ourselves and we proudly utilise ingredients derived from nature but engineered with science, because we want to make clean, safe and efficient products that will make a difference.
Triumph & Disaster's philosophy is to use the best of science combined with the best of nature to produce naturally derived but scientifically engineered products that work. We use local indigenous ingredients such as Horopito oil and Ponga fern extract blended with scientifically proven and natural ingredients from around the globe, such as clay from Australia, Jojoba extract from Mexico and Tamanu oil from Polynesia.
Finally we believe that the future of sustainable business is a path of integrity and honesty (great marketing and a rocking distribution system may also help) and that customers deserve at least this much from the brands they support.
We aim to respect nature, utilise science,  create products of ritual and tools for preparation – so we can treat Triumph & Disaster, those two imposters just the same.
Dion Nash
Founder