When it came time to select an advanced and reliable line of skin care products for our clients Lulu looked no further than Comfort Zone, using only natural-origin active ingredients you will quickly discover why their name is a perfect match for their quality.

To learn more about Confort Zone please read on…
---
SKIN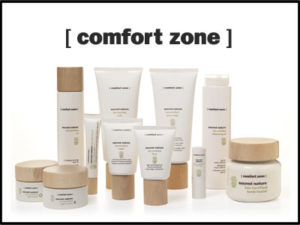 IS OUR FOCUS
Our constant research aims to understand
the skin and how to best guarantee
its beauty and vitality.
SCIENCE
IS OUR GUIDE
The most advanced medical and scientific studies
guide us in our continuous improvement
and pursuit of excellence.
SOUL
MAKES OUR OFFER UNIQUE
We care for the people, not just for their skin.
Our higher purpose is to help and encourage them
to take care of themselves and to live more soulfully.
FORMULATIVE PHILOSOPHY
Since skincare products feed and nourish the skin, we are extremely rigorous about what we put in our formulas.
We select the finest natural-origin active ingredients and combine them with the most advanced high-tech molecules and carrier systems to guarantee the maximum efficacy, safety and pleasantness of our products.
We are replacing silicones with nourishing oils and butters for maximum silkiness and to give skin the benefit of "real active beauty".
Our products are manufactured in Italy with electric energy from renewable resources.