Expanding on our organic PETA approved line of makeup it was easy to choose to offer bodyography's line of makeup to our customers.
---
About Us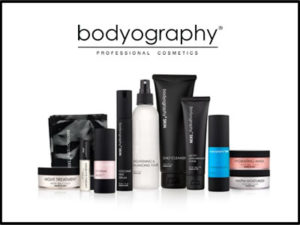 Bodyography is a boutique professional makeup line for amateurs and professionals alike, conceptualized and manufactured in the USA. But we're more than just your traditional makeup line. We offer cruelty-free, mineral-based makeup with clean ingredients that are infused with skincare benefits such as fruit and plant-derived vitamins and antioxidants. Along with our top-of-the-line formulations, we also offer Vegan, Paraben-Free, and Gluten-Free products that will fit into any lifestyle. The color payoff and quality of our products are undeniable, but what really makes us shine is the way our makeup feels on the skin—our weightless formulas are incomparable!
At Bodyography, our goal is to make our customers feel comfortable with makeup, both on and off the skin. We believe in enhancing your natural beauty to make you look and feel your best. Whether you're going for a natural or dramatic look, Bodyography Professional Cosmetics has got you covered! Our global makeup brand can be found in top salons, spas, and beauty supply stores across the USA, and in over 50 countries worldwide. That's precisely why Bodyography IS the language of beauty.